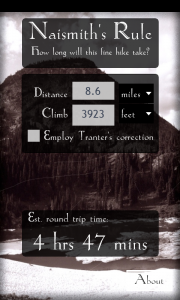 We've shipped our first Windows Phone 7 app. It's a simple application intended to calculate Naismith's Rule, a 19th-century rule of thumb for calculating how long a hike will take given the distance to be travelled and height ascended. And it's free! What self-respecting hiker could be without it?
It is our first Windows Phone 7 app to be available on the Marketplace, but it's not the first one we started work on. That was Carlos, and I'm hoping we'll be able to announce its availability in the next couple of weeks.
Download Naismith's Rule straight from the Marketplace here.