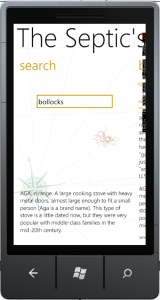 Some of you may know that I'm also the purveyor of The Septic's Companion, a lighthearted dictionary of British slang. I've been running the site for thirteen years and I published the book a couple of years ago.
Well, I'm now in the process of making the mobile app. Above is a very early screen shot – the app will allow you to search, and also to display the words by category or alphabetically. So far I've written no code whatsoever and have just been buggering about drawing the user interface. When I say this is an early preview, I mean it!
With any luck I should be done with the thing in a few weeks and it'll be up on the Marketplace. I am intending selling it rather than using ads, and I'm thinking it'll probably be $1. More here when I have it!