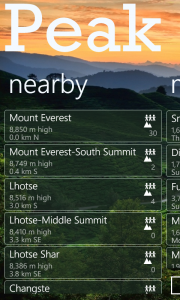 It was back in October last year when I emailed Greg, the chap who runs peakbagger.com, to find out if he wanted to join forces on a mobile app. It was December when I actually got a prototype running, and it's seemed like decades since then until we actually got the nuts and bolts together to create new accounts, log ascents, manage lists, et cetera, et cetera. Well, finally now it's finished – here, for posterity, is the very first peak bagging logged by the app – Sněžka, in the Czech Republic, which I climbed a couple of weeks ago. For software testing purposes, obviously.
Well, now we're all done, at least with the first version. This is without doubt the best quality app I've made so far and I'm quite proud of how it turned out. If you give it a shot, I'd love to hear what you think!

Ah yes, and I know what you're saying. Didn't this guy retire two days ago? Well, I technically finished this a while ago, it just needed to get through certification. If it makes a million, I'll be the first to unretire.