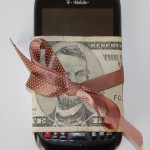 It seems like the number of reviews an app has makes quite a difference to purchases. I know this because, well, I pay a lot of attention to them myself. We need to get some more reviews up on the Marketplace, and in order to do that we're going to give free copies of either of our apps away to anyone who writes a review for the app (however brief, and however bad!). How is this going to work? Well… I've put together a splendidly easy step-by-step guide.
Own a Windows Mobile phone.
Buy either Carlos or Proximity from the Windows Mobile Marketplace. The easiest way to do this is to search for them from your phone.
Write a review (you can do this by going into the Marketplace app and clicking "My applications" and then "Rate an app").
Email us – support!betaminus.com (with an @ instead of the !) and tell us which review was yours.
We'll get in touch to give you the money back (PayPal is probably easiest, but we can send a cheque, or buy you a beer if you're close enough).
If you notice anything you think could be improved with the apps, do please get in touch as well!
And there you have it. Free application. What could possibly go wrong?